I have always enjoyed practising Reflexology, but this post is written from the perspective of the chair. The benefits of treatments continue to astound me and I have personally experienced profound effects from a good treatment.
About 15 years ago I stumbled into a tiny meeting room at a major firm in the UK for my pre-booked 'wellness' 20 minutes. We were all entitled to enjoy a session at discounted rates as part of the corporate wellbeing programme. It cost me a tenner and promised a window during which I could not be harassed, given more work or disturbed in any other way. I was also going through a personal bereavement at the time, so I thought I'd give it a go. Of the two treatments available, I chose Reflexology.
I had no idea what it was.
After being instructed to remove my shoes, I was slowly eased back into a reclining chair and the practitioner began pressing, squeezing and moving my feet and toes. It was remarkable how quickly I relaxed.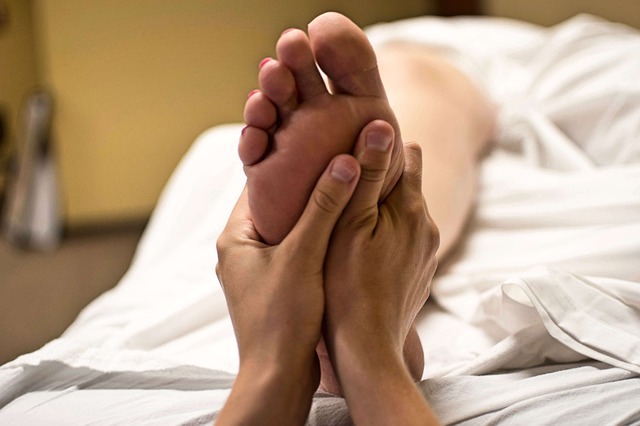 The room was quiet and a small salt candle on a corner desk offered subtle ambience.
Nowadays I enjoy it with meditative music and closed eyes (and sometimes snoring), but at the time I was full of questions like, "How does it work? Who developed it? What are the other benefits? How do you learn it? When can I start studying it?"
I learned that as a non-invasive complementary therapy it really me with symptoms of:
stress (immediate relief)
insomnia (over a course of treatments my sleep improved so much)
back pain (regular appointments)
arthritis (I felt some relief the following day and for a few weeks)
migraines (it didn't reduce the frequency of these for me, but definitely reduced the severity)
improved circulation (instantly)
priming for labour at 40wks pregnancy
I have never looked back and enjoy a treatment whenever I can.
There are many benefits that others have shared for Reflexology, but these are just the ones I have personally experienced.
I have also used Reflexology to help my children to fall asleep – it is amazing how quickly they drop off and get a good rest that night.
What I like most is that it is non-invasive and non-medical. While it is a pest that many healthcare insurers don't cover treatments, it is well worth the money each time. Get a treatment with a registered practitioner – someone who is accredited with your local Reflexology Association – that way you know you are getting the best treatment. You want someone with credible technique, qualifications and a sound knowledge of anatomy and physiology.
Let me know how you get on?